Pacing strategy for the Haute Route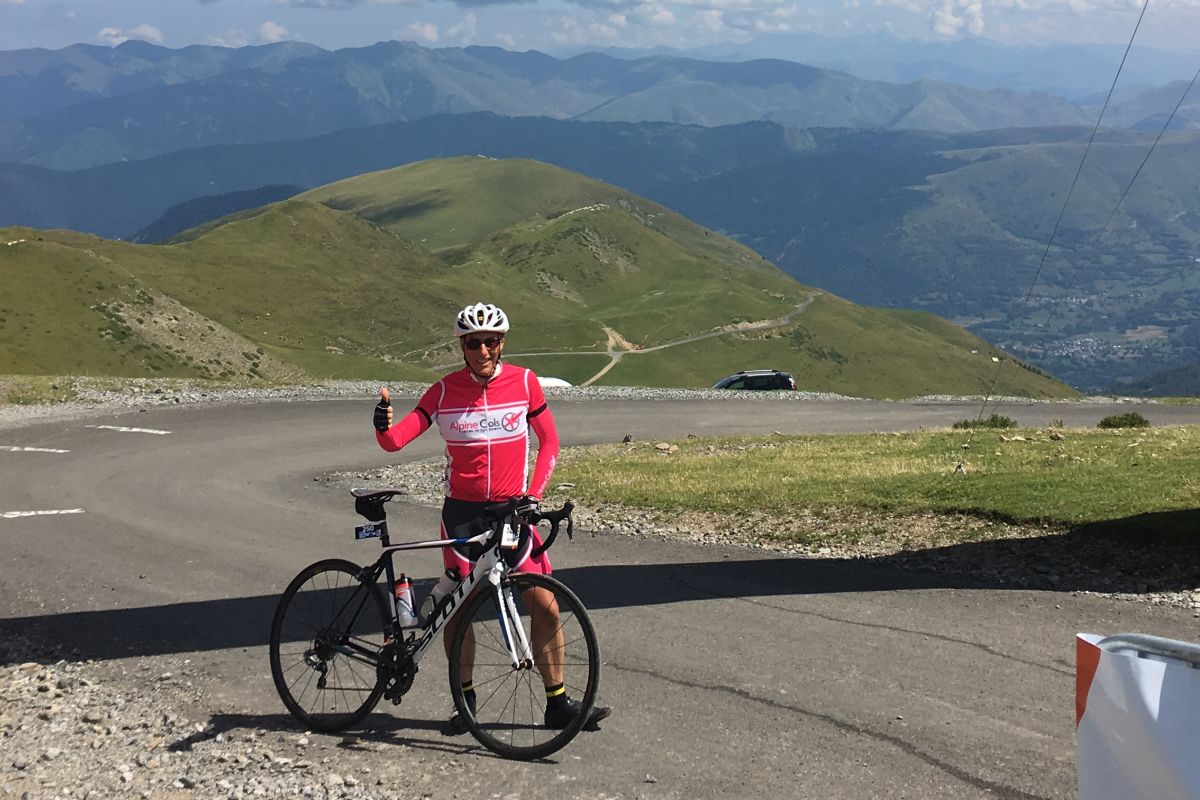 Pacing strategy for the Haute Route
Updated on 13.02.2023.
The Haute Route events are long distance stage races over mountainous terrain. They exist as 7 day, 5 day or 3 day events, always including one mountain time-trial.
Pacing strategy at a one-day sportive such as the Etape du Tour.
The stages are usually around 120-130km long with around 3,000m of climbing, typically including two or three long climbs. The time trial is typically 15-20km with up to 1,200m of climbing. Whether 3, 5 or 7 days, the Haute Routes are clearly endurance events, requiring a disciplined pacing strategy to do well.
This is nothing new and is a constant topic of discussion on registration day and leading up to the start of Stage 1. And yet…
We are frequently amazed at the number of riders who, come the starting whistle, immediately disconnect brain from legs and set off at an unsustainable pace. The inevitable result is they have a great result on Stage 1, followed by sliding backwards on general classification for the rest of the week!
So how should you pace the Haute Route?
To strip things down to the essential, you can consider the Haute Route as a series of climbing time trials, with the overall goal being to complete all 15 or so time trials in the shortest possible time. Of course it is not quite as simple as that and I'll go into the nuances below, but first, let's look at how to pace a time-trial.
Time-trial coaches are unanimous in their advice: START SLOW TO FINISH FAST!
Look at the chart below, published on Twitter by Xavier Disley. It shows clearly the difference between successful (white) and unsuccessful (red) pacing strategies in the ultimate time-trial, the Hour Record.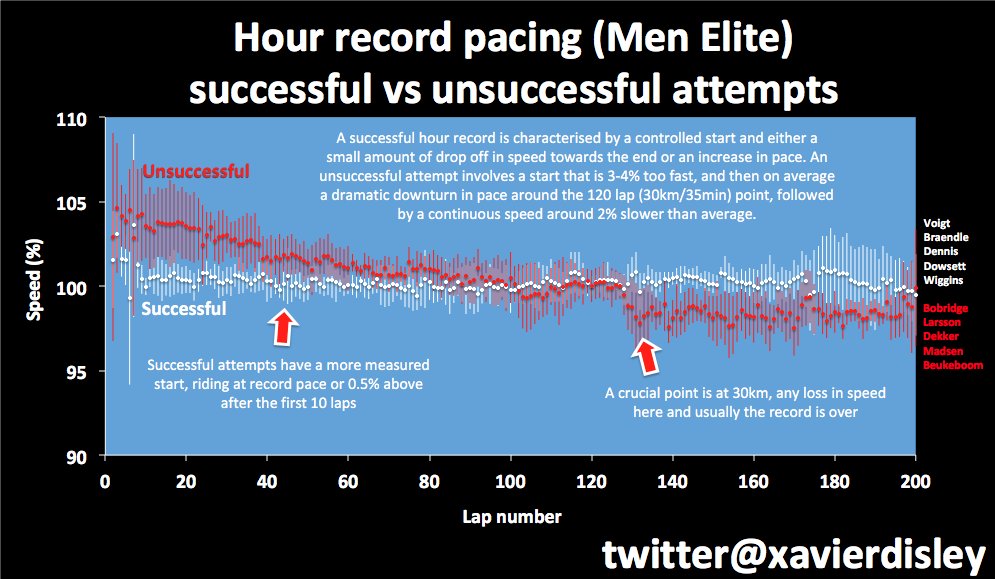 So if even experienced professionals fall into the trap of starting too fast, how can we amateurs avoid the trap?
Avoiding the trap requires two things: accurate information and iron discipline. Without accurate information you are guessing, and without iron discipline you will get swept up in the excitement of the start and the adrenaline rush as other riders pass you.
Accurate information
During the hour record, accurate information comes from the time per lap. On the road, the best information comes from a power meter, so long as it is accurate, calibrated and you have ridden with it for long enough to be sure of your Critical Power (CP) or Functional Threshold Power (FTP). CP and FTP are defined and derived in different ways but both boil down more or less to the average power you can sustain for at least 40 minutes in a well-paced all-out effort.
If you don't have a power meter, you can use your heart rate (HR) monitor. Your heart rate should settle down to a narrow band after the first five minutes or so, telling you which HR zone you are in, and you can keep an eye on this as you ride, adjusting your effort to stay at the right level. HR is nevertheless a less reliable indicator than power, because it is slow to react and affected by other factors such as temperature and altitude as well as your level of fatigue and the presence of stimulants such as caffeine.
If you don't have either a power meter or a HR monitor you will have to fall back on feel (or "perceived exertion" in the jargon). This means paying very careful attention to the feedback your body is giving you with respect to the effort you are making.
Iron discipline
This means making a plan and sticking to it, no matter how many riders go past you. Either they are stronger than you and you ae not going to beat them anyway, or you will catch them later in the week. Remember the Hour Record pacing chart and stick to the plan!
There is a nuance to this. If the stage begins with a flat or rolling hills section before the first significant climb, you need to make an effort to stay with the "right" group so that you don't lose time unnecessarily. This will mean making short, hard efforts to stay in the group, but these efforts must be manageable. How to judge this? Again, don't let the adrenaline get the better of you!
The data from your power meter can help, especially the instantaneous power but also derived data such as normalised power (NP) and W'. Explaining these in detail is beyond the scope of this article . The key point is to avoid making efforts on Stage 1 that you will be unable to repeat on subsequent days. No, miracles don't happen and your FTP hasn't increased overnight by 50W!
What power number to target?
Without knowing you well, we can only give broad guidelines. These are:
Ride the long climbs on the first 3-4 stages at 75% of your CP/FTP.
Adjust the percentage down to 70-72% if you know that you recover less well than other riders, or if you have not been able to repeat several hard days in a row during your training.
Adjust the percentage up to 78-80% if you know you recover better than other riders and have been able to simulate the Haute Route during your recent training.
If you are using HR, aim to stay in the lower half of Zone 3. If you have neither power nor HR, the pace should feel sustainable for 2-3 hours and you should be able to talk to other riders.
From stage 4 or 5 onwards, you can start to increase your target power on the long climbs. If your legs feel capable of it, try increasing by 5 percentage points (for example from 75% CP/FTP to 80%).
In HR terms, this means upper Zone 3 or lower Zone 4. With neither power nor HR data, judge your effort to be sustainable for the complete climb. You should be able to talk in short sentences.
On the final stage, throw caution to the winds and give it everything you have left!
To illustrate what we mean, let's look at three examples from this summer.
Marvin rode the Haute Route Pyrenees in 2018. He followed almost exactly the pacing strategy outlined above. At the end of Stage 1 he was 156th. As other riders became more and more fatigued his position steadily improved. He finished Stage 7 at the 84th place for the stage and at the 125th place on the General Classification, an improvement of 31 places over the seven days. His power output on the climbs varied from around 75% CP on the first 4 stages to 81-84% on Stage 5 and 6 and finally 91% on Stage 7.
Chris is one of our clients who also rode the Haute Route Pyrenees. After Stage 1 he was 162nd. He also steadily improved his position through the week, finishing Stage 7 at the 50th place for the stage and at the 109th place on the General Classification, an improvement of 53 places over the seven days.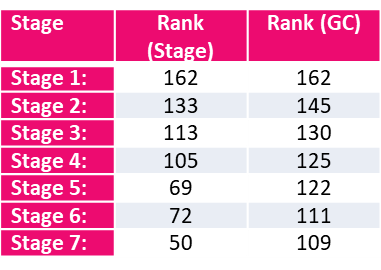 Henning is another Alpine Cols client, who rode the Haute Route Alps in 2018. He too improved his GC ranking significantly and steadily throughout the week, going from a Stage 1 position of 336th to a final position of 218th, a gain of 118 places!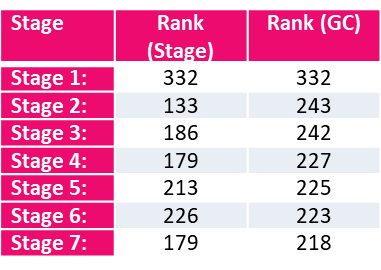 The common factor for all three of these riders was a disciplined approach to pacing. Do the same and you are practically guaranteed to improve your general classification every day!
Pacing strategy at a one-day sportive such as the Etape du Tour
Coaching Camps
---
Cycling Tours
---
Facebook
---