Alpine Cols kit to be supplied by Assos in 2019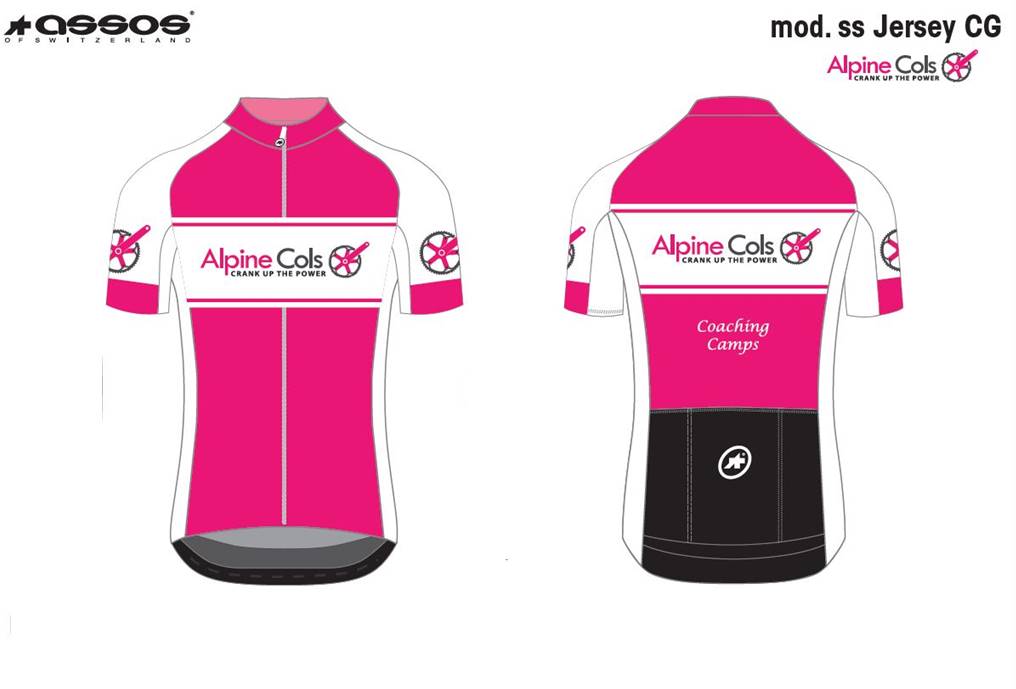 We are delighted to announce that Assos will be providing our cycling kit for the 2019 season. The innovative Swiss company has been producing the most technically advanced cycling clothes since 1976, when they were the first to introduce Lycra cycling shorts. Since then they have chalked up many other firsts and amply justify their reputation: expensive but worth every penny!
The values of Alpine Cols and Assos are perfectly aligned: a constant search for the highest possible standards of performance, comfort and quality.
Alpine Cols and Assos: your go-to combination for your toughest rides!
Read below for a description of the new Alpine Cols kit by Assos (text © Assos):
CG T MILLE BIBSHORTS
This is a summer short that can become your daily workhorse. They perform at their best on hotter days, worn with a lightweight skinFoil baselayer and jersey. On days when you demand a little more insulation, they'll team with leg warmers or knee warmers and a heavier skinFoil baselayer to provide more protection against the elements.
KEY FEATURES
S7 generation: The latest generation of ASSOS shorts, the S7 line employs technology and fabrics that have been engineered over a 5-year period. This generation of shorts sets new standards in performance and comfort.
ASSOS Custom lycra .439: To improve the performance as well as increase the durability of our products, we have created these shorts using our type.439 lycra, a specific design created in collaboration with our fabric suppliers to meet the demands of performance, comfort as well as wear and tear. Unique within the industry, the weave has two different rates of 4-way stretch, which means that one panel of these shorts must be laid out in a specific manner when being cut.
aeroPatterningFenomeno1 design: Drawing on everything we learned from our project to create the fastest skinsuit for the London 2012 Olympics, this technical design is instantly noticeable when you put on the short. Crafted with a patent-pending single seam that sits on the rear of your legs, this means the main fabric of the short wraps around your thighs to give you a unique level of comfort and compression from our S7 generation of shorts.
Y7 frame carrier bibTech: Another noticeable difference in our S7 generation of shorts can be found on the bibs themselves. Cut from wider elastic, they sit with less pressure on your shoulders. The design meets two objectives: less friction and more comfort.
mille_S7 insert: Coming with 8mm of memory foam, this insert strikes the ultimate balance between comfort and performance. Central to the fit is the patented elastic insert interface, which was invented by ASSOS and sees the insert move with your body, allowing it to sit in one place to follow your movements, reduce friction and increase comfort.
ASSOS goldenGate technology: The sewing on the insert is interrupted to create a free-moving midsection in the area between the legs that gives increased freedom of movement in the most sensitive area. This is a patent-protected feature that is central to our S7 generation of shorts.
The ASSOS waffle was introduced on the S5 and has been further perfected for S7. Instead of using a monolithic linear foam as the middle layer, S7 is equipped with a perforated foam resulting in a reduction in weight and increased breathability.
superFlat grippers: are ultra lightweight and low volume. They have an optimally calibrated stretch return, which secures the shorts firmly to the legs without applying unnecessary pressure.
iceColour: is a fabric treatment that reflects sunlight therefore reduces heat absorption. Its objective is not only to keep your muscles cooler than when wearing non-treated shorts, but it is also proven to increase the longevity of its products.
CG SS JERSEY
Perfect for the hottest rides and hardest climbs, this jersey is highly breathable and well suited to summer rides. Depending on the intensity, time of day, weather forecast and altitude of your route, we'd recommend playing with your skinFoil baselayer underneath to tune your outfit. On chillier days, start the ride with arm warmers and a shell jacket.
KEY FEATURES
regularFit: Less compressive than our racingFit, but more fitted than the comfortFit, our regularFit body mapping design bridges the gap between these two fits and comes in as the ultimate balance between comfort and performance.
Type.112.Dual Fabric: Striking the balance between printability and performance, this ASSOS-created fabric will not only take full customization in terms of design, it will also benefit your riders when they're riding at the highest of intensities.
Standard rear pockets: the jersey has three lower back panel pockets.
New rear elastic: the wide elastic ensures that this item of apparel fits securely.
Purchase the Alpine Cols kit by Assos
Alpine Cols coaching camps in 2019
Coaching Camps
---
Cycling Tours
---
Facebook
---