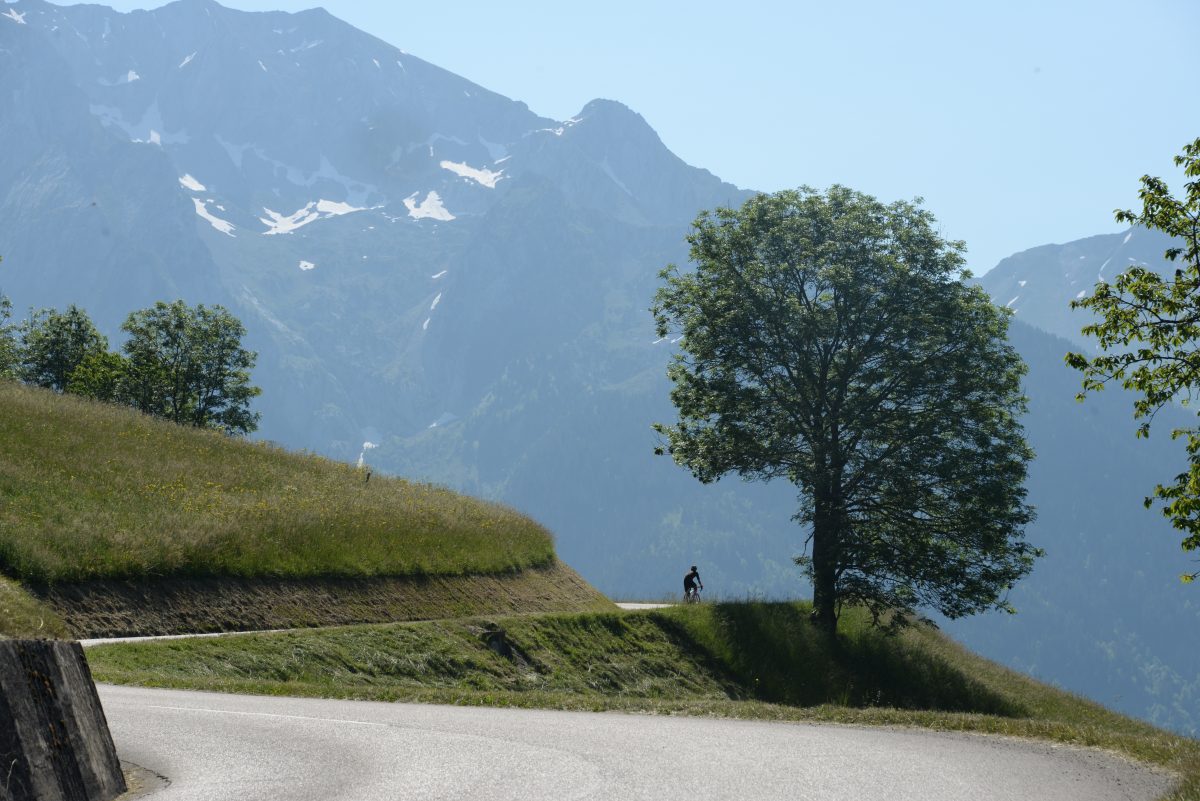 I set off to climb the col de la Faucille, our everyday local climb. Starting in Gex, the climb is 11.4 km long and rises 700m. There are two distinct parts. The first two-thirds of the climb offers a fairly regular 6% slope, whereas the second part, starting at the Fontaine Napoléon, is noticeably steeper, averaging 8% before the final kilometre which is very irregular.
Km 11.4
I climbed steadily from the start point at the traffic lights, leaving the war memorial and the church on my left as the town fell away below. After a five-month lay-off I had no thoughts of doing a fast climb. This was to be an endurance-based training ride, contributing to the long, slow process of teaching my body to be a cyclist again.
Km 10
I circled the new roundabout above the town and headed upwards through the fields. The verges were overgrown with long grass and needed mowing. A herd of cows watched my progress with bovine curiosity. My speed was at least 3 km/h less than it would have been last year: this was definitely not fast.
Km 8
I saw him as I came round the first of the left-hand switchbacks. He was about 250 m ahead.
"Great," I thought, "someone to chase!"
I guessed it would take no more than a kilometre to catch him, and told myself to take it easy, nice and steady, and reel him in metre by metre.
Km 7
The strategy worked very well until the next switchback. By then I had closed to about 75 m. As he doubled back, he glanced down and to his right and saw me. He was instantly galvanised into action, leaping to his feet and redoubling his efforts. He quickly pulled ahead.
I smiled to myself.
"OK," I thought, "I'll play Wiggo to your Contador! You can accelerate now, but I'll catch you later, slowly and steadily, no stress".
Km 6
And so it played out. I continued to treat it as a sort of time trial, keeping a steady pace just below the red line. After his sudden acceleration, the distance between us remained the same for several hundred metres. My rival danced up and down on his pedals in what seemed like an increasingly desperate effort to stay ahead. His pedalling was looking more and more ragged, his whole body moving back and forth and from side to side as he shook his bike to get more speed out of it. I was sure I'd have him before the Fontaine Napoléon, perhaps a little after if I didn't rush it.
As we approached the Florimont restaurant the gap was closing steadily, now no more than 100-120m. He glanced at me again as he rounded the switchback, but made no sign to acknowledge me.
Km 5.5
After the restaurant, there are a couple of S-bends where you can't see far ahead. As he disappeared from view I resisted the temptation to accelerate sharply, but I did allow myself a slight increase in pace. This paid off and I closed to within 50m at the left-hand bend and to only 20m at the final right before the Fontaine. I knew it was over. It was up to me to choose exactly where to slip past, with a cheery "bonjour".
Km 5
The Fontaine Napoléon is on a sharp left-hand switchback, noticeably steeper. I was no more than 15m behind as he rounded it and turned his head to glance at me again. He hadn't seen me for a while and my sudden appearance almost on his wheel was clearly not welcome news. He shot forward like a startled rabbit, again standing on his pedals, again flinging his bike from side to side.
"OK," I said to myself, "so this is going to be tougher than I thought".
It is harder to sustain a decent rhythm on this part of the climb, where the gradient keeps changing, touching 9% or even 10% for short intervals. I was often in my lowest gear, spinning as fast as I could, still putting out the power, but it was getting more and more ragged. I was having to stand up more and more.
Once again, the gap between us increased, and up the long straight it stretched out once more to 150m.
Km 4
I was in no shape to make the effort needed to close the gap on these steeper slopes. I knew I'd have a final chance a little higher up where the slope eased again. I toiled away, preventing the gap from increasing.
Km 2
My confidence was ebbing away as the gap remained stubbornly constant. I tried everything, in and out of the saddle, changing gear, changing cadence, nothing worked.
Round the next switchback I realised the excitement of the chase had made me forget to drink – a beginner's mistake. It was hot, I was sweating hard and I was thirsty.
Km 1
I passed the garage where in summer 2004 someone had painted "Lance: EPO" with a big white syringe on the dark green doors. I watched Armstrong make this climb that year, on the stage from Annemasse to Lons-le-Saunier. I was a big fan of his and for a long time I didn't want to believe the accusations, so I was relieved when they were finally painted over (well before the full story came out).
The slope is a little easier here, although not easy enough for me to power up after 40 minutes of hard climbing. There was little left to give. I gave it anyway. I reached the little flat before the last 200 m to the summit, to see him still 100 m ahead.
OK buddy, well done, you got it.
Km 0: the col de la Faucille
I thought we might stop and talk about the climb. I was looking forward to congratulating him and hearing him say that I pushed him hard and that it was a great climb. But to my surprise he didn't even slow down at the summit. He continued straight over and down the false flat on the other side.
I was going that way too, so I didn't stop either. I'm OK at descending so I figured that either I'd catch him on the descent to Mijoux, or at the worst I'd catch him on the next climb to Lamoura. I took my time to drink and fuel up before settling into the drops and pedalling hard after him.
He was about 50 m in front when we came to the place where you turn left to Mijoux.
He went straight on.
I turned left.
I just know I would have caught him.
Soon.
Maybe in Mijoux, maybe in Lamoura.
Certainly before La Cure.
Coaching Camps
---
Cycling Tours
---
Facebook
---