Visit to CycleFit: a top London-based bike fitting specialist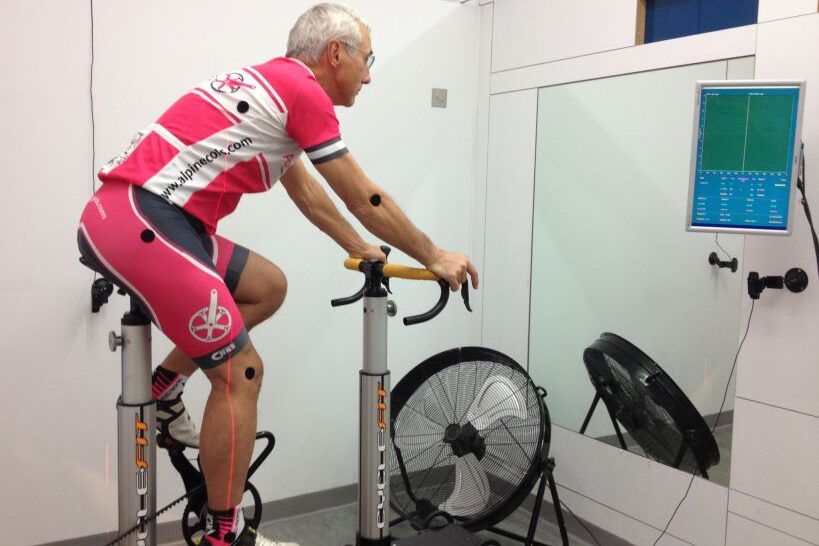 Good Pain and Bad Pain
Anyone who has been cycling seriously for more than a few months is likely to have heard about the importance of a professional bike fit. Riding on a poorly adjusted bike, or worse, one that is the wrong size for you, will quickly lead to aches and pains.
You might also have heard about cycling's famous Rule 5 (Harden the F**k Up), and therefore assume aches and pains to be a normal part of becoming a proper cyclist. Rule 5, however, was never intended to lead to injury and you need to distinguish between good pain and bad pain.
Good pain arises when you use your muscles more than they are accustomed to. When combined with appropriate rest and recovery it leads to healthy adaptations that make you stronger. Bad pain arises when you go too far and put too much stress on muscles and joints, and this is exacerbated when your movements are biomechanically inefficient.
Riding a bike that does not fit is definitely in this last category, and if you persist you may pick up a serious injury that could stop you from cycling for months.
A bike fit is not for life
Not only should you have a bike fit when you first start, you should also repeat it regularly as your riding style and ability evolve, and ideally each time you change your bike. In the world of bike fitting, millimetres matter and even small changes in your flexibility or your bike's frame geometry can have a knock-on effect.
This is why Emmanuelle and Marvin found themselves recently at premier London-based bike-fitters, Cycle-Fit. Alpine Cols have partnered with Scott Bikes for the 2016 season, and we thus had two brand new Scott Addict climber's bikes to fit.
CycleFit was founded in 2001 by Julian (Jules) Wall and Phil Cavell, two strong British club racers from the early '90s who realised the importance of a proper fit from their own unhappy experiences. They resolved to learn all they could about the issues, and delved deeply into biomechanics, physiotherapy, and anatomy before completing their training in the US, at the time the only place where bike fitting was taken seriously.
According to Jules and Phil, their Covent Garden base in London was the first dedicated bike-fitting and cycling biomechanics studio in Europe. Since opening for business in 2002 they have continued to build deep links with sports medicine specialists and have worked with countless famous and less-famous athletes.
CycleFit is the Technical Fit Partner for Trek Factory Racing and Matrix Pro Cycling. We only just missed Fabien Cancellara during our visit: he was there the previous day for his annual fit with Jules. Tao Geoghegan Hart (Axeon HB) is another regular visitor, amongst many other pro cyclists.
The on-line booking process is simple and efficient. You choose a 3hr time-slot on the calendar, make your payment and receive immediate confirmation. CycleFit have two identically-equipped studios so Emmanuelle and I booked both of them at the same time.
We arrived a little in advance of the appointed time to be welcomed by Simon and introduced to our two bike fit technicians, Jimmy and Shaun. Both are passionate cyclists as well as experts in bike fitting. We were to get to know them well over the next three hours.
The session began with an interview to provide the basic information needed for a proper fit. Age, experience and objectives are crucial inputs, together with data on sporting background and other activities, past or present injuries or areas of discomfort.
Next was a physical examination. Be prepared to do some unsupported single-leg squats as the technician looks for hip flexion and hip rotation: this is definitely easier for some than for others!
Various key measurements were taken, such as inseam, shoulder width, differences in leg length and some very detailed foot measurements. CycleFit places a great deal of importance on getting the foot-bike interface absolutely right, since an efficient transfer of power from the human to the machine is crucial to performance.
New Shoes
There was much shaking of heads and sucking of teeth as Shaun and Jimmy compared my foot measurements with my existing, almost new and very expensive shoes. It turns out that I had unwittingly bought one of the least suitable types of shoe for my particular feet.
Faced with the choice of continuing to experience "hot-foot" and intense pain during the repeated climbs on an Alpine sportive or buying a new pair of shoes, the decision was soon taken…
The new pair was noticeably wider and once armed with a custom-fitted orthopaedic foot-bed it certainly felt comfortable, so it was on to the Fit Bike.
Fit Bike
The Fit Bike is not to be confused with a Fat Bike, another concept entirely … The Fit Bike will never go out on the road, still less on the snow, but is fully adjustable in all relevant dimensions and enables both power and pedal efficiency to be measured and displayed in real time on a screen in front of you. Combined with video cameras and the Dartfish analytical software it is a great tool for optimising the fit.
The final step before climbing on the bike was to be fitted with adhesive black dots, positioned precisely on ankles, knees, hips, shoulders and elbows to provide the points of reference for measuring the angles.
We had brought our own pedals (and you can even bring your own saddle), so with the Fit Bike set up to our existing measurements we felt immediately at home.
Instructed to pedal at a steady endurance pace, I looked at the screen while keeping the power as stable as possible around 220W. The screen shows the power every 30° around the stroke, for both left and right legs, giving a very clear indication of any imbalances and of how smooth the stroke is.
Meanwhile Shaun was looking carefully at me from all sides. He soon detected a tendency to rotate my knees slightly inwards, so the decision was made to add a thin wedge between my shoes and cleats. This done, it was back on the bike for long minutes while I was filmed, angles were measured, minor adjustments were made and I was filmed again.
Jules came in to supervise proceedings and to give his final blessing, so I can happily report that my bike was finally set up by the same person that does it for Fabien Cancellara.
The final verdict?
Apart from the new pair of shoes and the slightly angled cleats, I have a saddle that is 11mm higher and 12mm further forward, and a bar height that is 17mm lower.
Rendezvous this summer on the Haute Route Alps to see how well it works!
Coaching Camps
---
Cycling Tours
---
Facebook
---