Recovery from a serious accident, Part 2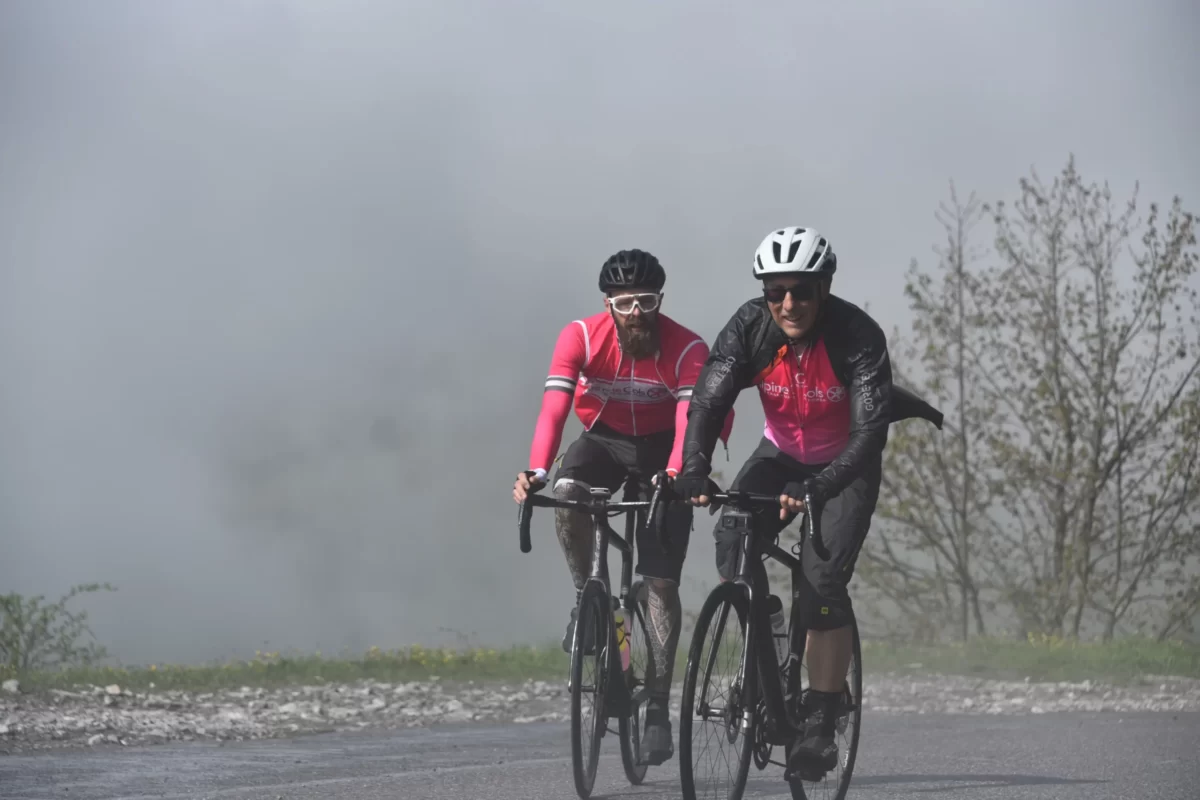 In a previous article, Detraining and recovery from a serious accident, I wrote about my slow return to training during the first four months after a serious accident on July 2nd 2022.
In this article I pick up the story where I left off and write about my ongoing efforts to recover my previous level. The story illustrates the effects of detraining and the very considerable amount of time and patience required to get back to one's previous level, particularly as one gets older (I am now 64).
I concluded the article in November as follows:
"During the next three months I intend to stabilise my average training load at around 15-16 hours per week (including cycling, swimming, walking and strength workouts).
My goal is to recover and even improve my pre-accident aerobic condition. This will mean a high volume of low-intensity work combined with a small amount of high-intensity to recover some anaerobic fitness through the winter period, and then adding more event-specific sweet-spot and high-intensity work in the spring and early summer."
I ended, somewhat optimistically, by stating: "If all goes well, by late spring of 2023 I should be back to normal!"
What happened?
Training Load
My training effectively restarted in early November. For the first three months I averaged 12.7 hours per week, increasing this to 15.9 in the next three months and 16.3 in the last three months. There was a lot of variation however, with the biggest week at 35 hours and the smallest at 7.4 hours.
Note that I didn't record short walks, swimming, stretching sessions or other non-specific movement during the day.
The Performance Management Chart (below) shows my steady increase in load, with the variation between load and deload periods standing out clearly.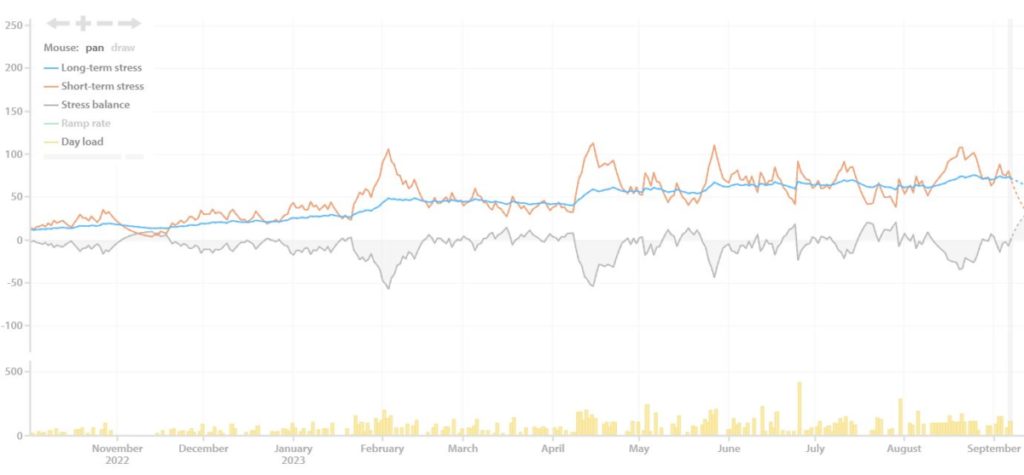 You can see the response of my nervous system to the training load (and other sources of stress) in the HRV chart below. Interestingly, this shows increased HRV (which is good) whenever I am able to ride for 4 hours per day or more over a period of several days. Looks like I need to make this a daily habit!

Intensity distribution
Throughout this period my goal was above all to rebuild a strong aerobic base. As a result, I did the vast majority of my training in Zones 1 and 2. I tried to keep it very close to LT1, the first lactate threshold (also called the aerobic threshold). This is believed to be the most effective intensity to build aerobic endurance and fat-burning capacity, especially during long rides.
Beginning at 2 hours, I increased the duration of my rides progressively and whenever possible, doing the first 3 hour rides in December. I managed a 6 hour ride in February, followed by several more in April and May, and then added a couple of 7 hour rides and finally a 10 hour ride at the Marmotte in July.
On average I did one high or higher intensity ride every 10 days or so. Some were unstructured, tempo efforts, some were structured intervals in Z4, Z5 or Z6. I rode in only two competitive events, the Marmotte on June 25 and a local sportive on July 30.
Results
My training metrics showed steady improvement, with my HR/power ratio coming down significantly over the year. It is now back to where it was pre-accident, suggesting that I've regained pretty much all of my aerobic fitness.
My critical power and power at VO2max are still some 25-30W (~10%) below my pre-accident levels. This is not surprising given the low emphasis I placed in high intensity training. I am now increasing the frequency of these workouts to at least one per week and expect to make rapid gains at the higher end.
My goals at the Marmotte were to get my nutrition right, to enjoy it and to finish. There was a major course change this year meaning that times can't be compared with previous years, which is a pity. I normally finish around the 1000th place; this year I was 1904th. I was clearly under-trained for so much climbing and suffered particularly on Alpe d'Huez.
The local sportive was much shorter 1t 120km  and 2,200m, so I decided to deliberately start out too hard and see when I would crack. This turned out to be after about 3 hours. I eventually suffered quite severe cramps and the finish was painful. No surprises: my durability is clearly way down due to the small amount of high intensity work I've done.
What's next?
At the age of 64 it's reasonable to ask if I will ever recover the level I had when I was 62. I don't know the answer to that yet, but I'm giving it my best shot. The core of my training from hereon is:
A consistently high volume of easy aerobic cycling
One high-intensity cycling session per week
One weights session focused on leg and core strength per week
One hour per day of additional easy movement: walking, swimming, yoga.
Let's see where it takes me.
Thanks for reading!
Marvin
Coaching Camps
---
Cycling Tours
---
Facebook
---