Riding Liège-Bastogne-Liège: Part 2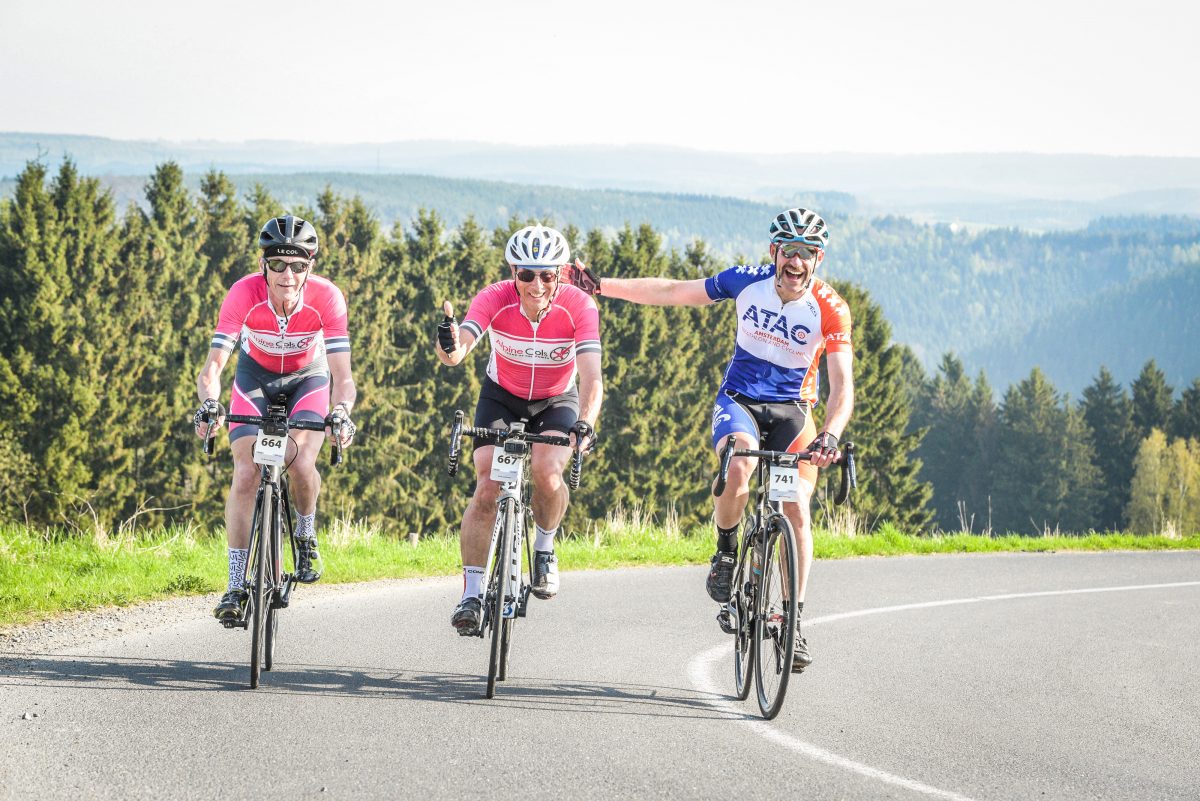 When posting the strategy a few days before (read here), I promised to write the actual event up afterwards. So here it is: my personal experience at the 2018 Liège-Bastogne-Liège Challenge.
How hard is it?
Early start
Act 1, South to Bastogne (100km)
Act 2, Bastogne to Francheville (75km)
Act 3, One hard climb after another (100km)
Epilogue: what I learned
How hard is it?
275km is a long way and 4,350m (the organisers claim 5,000m) is a lot of climbing. This is never going to be an easy ride. How hard it is for you, however, depends on multiple factors, not least the weather, but especially on how well prepared you are and how hard you choose to ride it.


Riding Liège-Bastogne-Liège is not to be taken lightly. Only strong, experienced cyclists should consider the full distance, and should then train seriously for it, including several training rides at more than 200-230km, each with plenty of short, sharp climbs.


In my own case I was not especially well prepared, due to a late decision to participate and a couple of minor accidents that cost me crucial training miles in February and March. I therefore had no choice but to take it slow and steady, making it hard for me to compare with other notoriously tough events such as the Marmotte (175km, 5,000m), which I have always ridden to the limits of my ability.


Liège-Bastogne-Liège 2018 took me 10h28 on the bike, with a total time of 11h16 including stops and a puncture. I was never at real risk of not finishing, although my body was hurting all over after the first 9 hours and I can't say I enjoyed the last 40 km.


Some 2,500 started the full distance. According to the organisers, "several hundred" did not finish (since the event is not timed from start to finish, precise data is not available). Against this, 4,300 riders started the medium distance (154km) and 1,200 started the short distance (75km).


Read below for the story of what happened, and the Epilogue: what I learned for tips if you plan to ride it in the future.


Early start
There is no mass start and you can get going any time between 06:30 and 07:30 (for the full distance, later for the shorter distances). My riding partners Bruno, Hamish and I decided to be on the line at 06:30 and leave with the first wave. The finish line closes at 20:00, so we knew we had 13.5 hours to complete the ride!


I laid out everything the night before and set the alarm for 05:55. As soon as I woke up I drank half a litre of water and ate some fruit cake, followed by a bowl of SportDej, an easily digested carb-rich meal made for last-minute consumption. After a short ride through the streets of Liège, still dark and quiet, I met Hamish en route and Bruno at the start.


The temperature was 12°C and forecast to reach as high as 28°C, so we decided to risk it and ride light, leaving arm-warmers and gilets in Bruno's car. It is worth pointing out in passing that the weather in 2018 was absolutely exceptional; more often than not it rains on Liège-Bastogne-Liège, with temperatures in the range 5°C-10°C. It has even snowed several times in the history of the race. To say we were lucky is an understatement!


Act 1, South to Bastogne (100 km)
The first 9km are flat, through the city of Liège. We were obliged to stop several times for traffic lights. The route was well-indicated but there were few signallers. The event really gets under way at the same point as the pros, where the road starts to climb towards Beaufays. Everybody rides this first 5km climb (average 4%) too hard. I tried to keep a sustainable tempo pace without going in the red.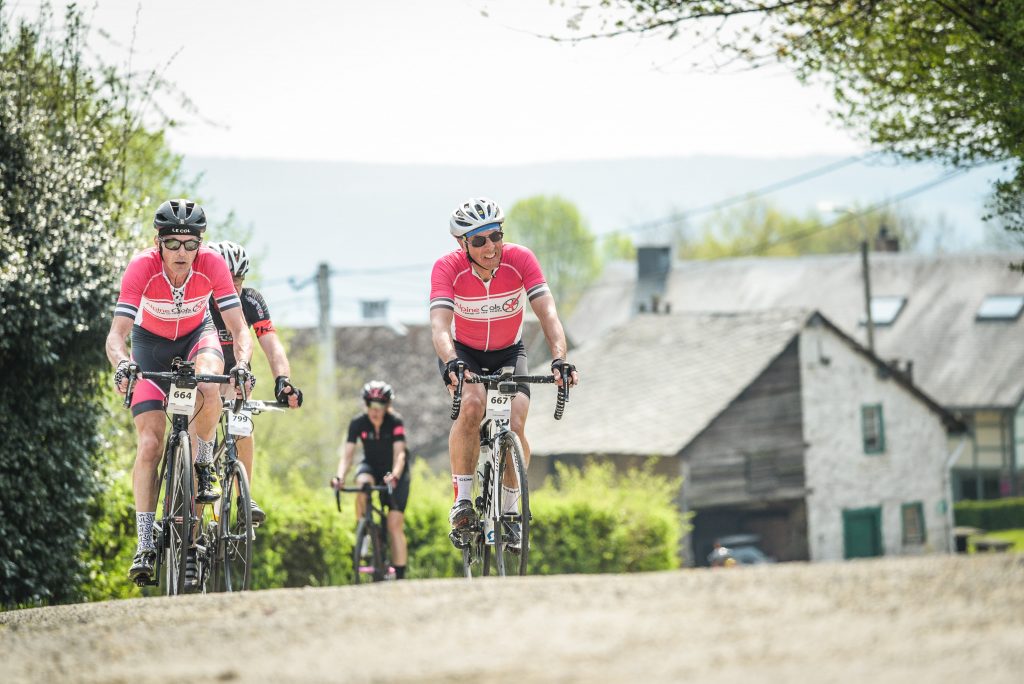 From Beaufays the road is a long series of rolling hills all the way to Bastogne, on roads of varying size and quality. On average it is a false flat climb. There are many variations but nothing too steep. It is important to do this in a group at the right level for you, even more this year when there was a light headwind.


We noticed many people rode the climbs too hard and then slowed over the top and took it very easy on the descents. We gained a lot of places by following the opposite strategy of taking it relatively easy up the climbs, pushing on over the top and keeping up the pressure on the descents, thus keeping the power as constant as possible.


There is one recognised climb, the Côte de Bonnerue at km 78 (3km, 6%, some passages at 8%). I rode this in Zone 4, a little under my FTP. This was probably too fast and I would have done better to save my energy.


We skipped the first feed station (km 43) and stopped in Bastogne for 10 minutes, after 3h22 (km 96). The feed station was well supplied with Etixx-branded sports nutrition as well as plenty of Belgian waffles, ginger bread, raisins, bananas etc. There were also plenty of toilets: Bravo the organisers!


Act 2, Bastogne to Francheville (75km)
Bastogne (km 96) is obviously a huge landmark and turning back to the north feels like a great achievement. Unfortunately, it is barely one third of the way in distance, and less still in terms of the overall challenge!


The section to Francheville is again rolling hills, punctuated by two steeper ones, the côte de Saint-Roch, short and very steep, and the côte de Mont-le-Soie, longer but still hard.
Once again this whole section needs to be done in a group, keeping the highest possible average speed while conserving energy. I was lucky to have two extremely strong riders with me: both Hamish and Bruno took prodigious pulls on the front.


Soon after Bastogne, Hamish picked up a large screw that pierced his rear tyre and damaged his wheel rim (fortunately aluminium). We were able to repair it with tape, a bank note and a gas cartridge, and Hamish's practiced repair skills meant the time lost was limited to only 12 minutes.


I remember remarking at this point that we had already ridden the equivalent of a decent Sunday training ride. Despite this, legs, energy and morale were all good.


Act 3, One hard climb after another (100km)
I'm tempted to say that almost any cyclist, with minimal training but sufficient determination could make it to km 175 at Francheville, on the other side of the côte de Mont-le-Soie. From here on, however, training, preparation and experience play an increasingly important role, enabling some to go on while others are forced to put their feet down.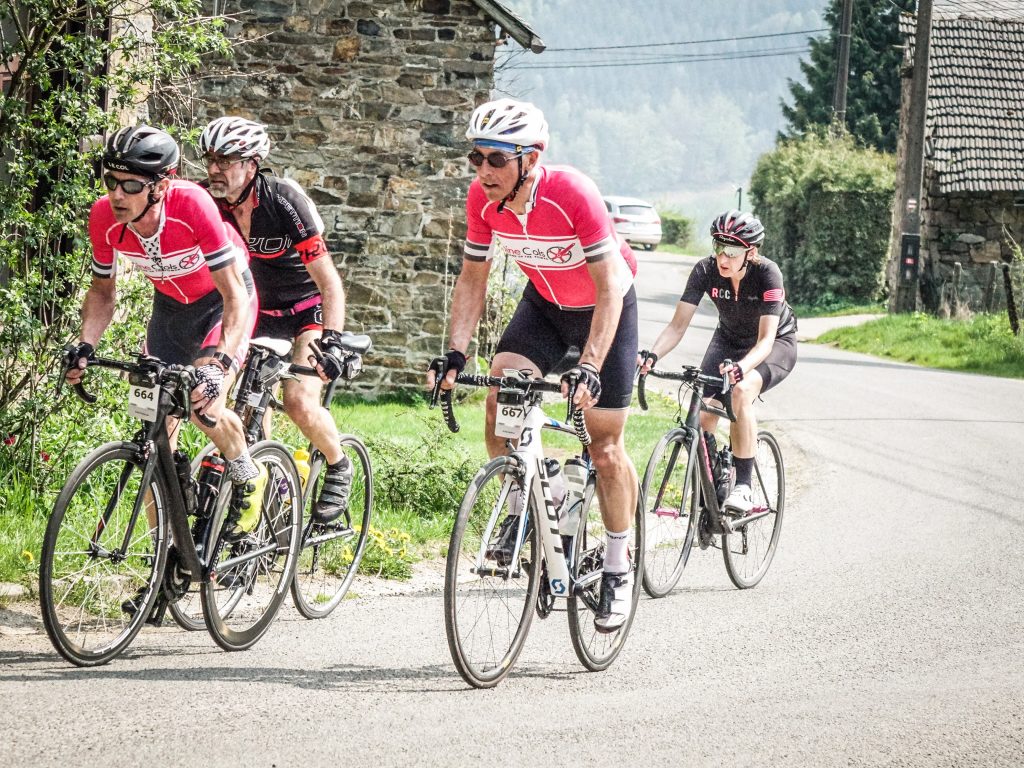 This is where we started to overtake many riders who had passed us earlier in the day. All were clearly suffering, some were walking on the climbs. It is not because you CAN ride faster early in the event that you should!


I'm not going to describe the remaining 100km and 13 or so climbs in detail. Suffice to say that the famous ones (la Redoute, la Roche aux Faucons, le Saint-Nicolas) live up to their reputation.


Taken in isolation, on a short ride, you might wonder what all the fuss is about. Yes they are steep, but also short! What makes these climbs so tough, of course, is the distance and climbing already done. We arrived at the foot of la Redoute after 226km and nearly 9 hours. By the time we reached the final climb to Ans, it was 265km and nearly 11 hours. A climb you would barely notice at the start of a typical training ride becomes a monster in these conditions.


Until la Redoute I was feeling increasingly fatigued, but still pretty much OK. After la Redoute everything hurt: feet, legs, back, ribs, shoulders, neck, arms, hands, you name it, it hurt. I was pushing into unknown territory. From now on every kilometre would be more than I had ever ridden before.


We took a much-needed 13-minute break at the final feed-station to stretch, rub muscles and mentally prepare for the remaining 40km. Or, to be more honest, I did. Bruno has ridden the full course 10 times before, often in atrocious weather. For him, this was normal. Hamish is 14 years younger and fantastically fit. Even though this was his first attempt at the full distance after twice riding the shorter course, he was well within his limits. Their support was fantastic.


I have only scattered impressions about the final climbs (la Roche aux Faucons, Saint-Nicolas and Ans). Terraced houses. Parked cars. Steep. Riding with Bruno. Hot. Children cheering. Standing up. Ribs hurting.


Looking at the power recording, I'm surprised to see I managed these last climbs with a respectable power output (Zone 3). I do remember feeling totally incapable of putting out even 30s in Zone 4, and the power recording confirms this!


Cresting the hill in Ans (where the pros turn left and finish after a 300m straight), we turned right and descended a side-street. Bruno said: "That's it, you've done it".


There were just 9km left to ride to our finishing point at the Halle des Foires, including a steep descent on cobbles that must be lethal in the wet. Nothing was going to stop me now.


Beer and barbecued sausage have never tasted so good.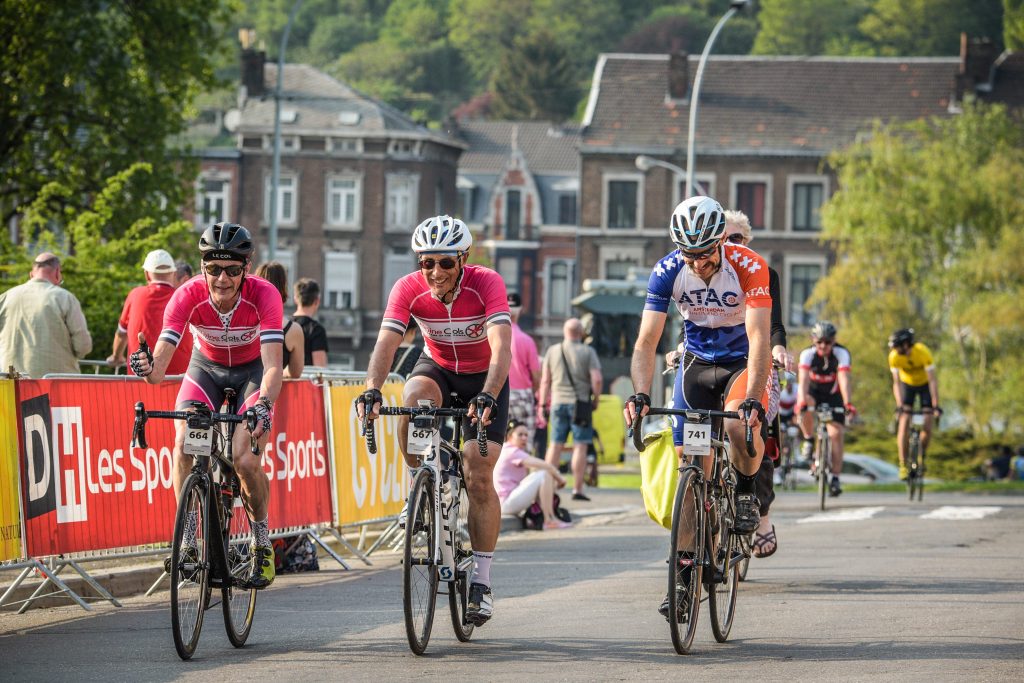 Epilogue: what I learned
In terms of distance, climbing and time in the saddle, one-day cycling events don't come much harder than this (only the Tour du Mont Blanc comes to mind, at 330km and 8,000m+).


There is a huge difference, however, between riding Liège-Bastogne-Liège as hard as possible to finish with a fast time, and riding it purely to finish with no regard to the time taken. This is where the value of doing enough long-distance training rides becomes obvious: your body progressively adapts to spending longer and longer in the saddle. What was once a challenge becomes the new normal.


Riding these distances doesn't require unusual talent, but it does require months of training combined with unusual determination and dedication.


Below are my thoughts on how to finish with a fast time. Some of the tips are specifically about saving time; others are about saving energy, or better, using your energy more efficiently.


The right bike. Your bike must fit you like a glove: any mistakes in the set-up will cause serious trouble after several hours of hard riding. Install the lowest gearing available (e.g. a compact 50-34 and 11-32). 50-11 is plenty for the (short) LBL descents and 34-32 enables a reasonable cadence on the steep climbs.
Start early. Start with the first group at 06:30. As well as maximising the time available to finish before the cut-off, you will benefit from picking up a tow from faster riders who start later.
Plan in advance. Think carefully through the entire process from waking up to starting the ride and work out how long each step will take. Do everything possible the night before, including final checks on the bike and laying out your kit and your breakfast (it may be too early for the hotel).
Pace yourself. If you ride with a power meter, use your power-duration curve to calculate the maximum average power you can sustain for the time you expect to take. Any time you ride above this power must be compensated by riding below it later. Miracles don't happen.
Ride in a group. The quickest way to waste energy and lose time is to ride on your own. If the group you are in is too fast, slow down and wait for the next one. Better to lose a few seconds now than many minutes later.
Save energy on the climbs. Many of the climbs are at the foot of a descent or at the end of a flat section. Save energy by increasing your speed before the slope and carrying it as far up as possible, progressively changing gear and then dropping to the small chain ring.
Cresting and riding downhill. Make the climbs at a steady pace, but continue this pace over the top and on down the descent. You will gain minutes over people who ride harder up the climb but then stop pedalling over the top.
Save energy by good technique. Keep the right posture, a relaxed upper body and good pedalling technique to eliminate parasitic movements and wasted energy. This is especially important as time goes on and you get tired.
Eat and drink on the bike. These are basic skills that are essential to avoid wasting time. I consumed eight gels, four energy bars and two honey waffles on the bike, and ate a sandwich and some salty biscuits at the feed stations. I drank eight large bottles.
Add/remove clothes on the bike. These are advanced skills you must practice at home, but result in significant time savings when the weather requires you to put on or take off a jacket.
Be prepared for punctures. Expect a puncture and you might be lucky. Have everything you need (at least two inner tubes and two CO2 cylinders, tyre levers, tape, hand-pump) and practice until you can change the tube efficiently and quickly.
About Alpine Cols
Alpine Cols is a team of cycling coaches based in France. Our speciality is long distance, competitive events in the mountains, particularly the Haute Route, the Marmotte GranFondo Series and the Etape du Tour. We run open-enrolment training camps in Tenerife, the French Alps and the Dolomites and also run many private group events in the Alps or the Pyrenees. More here.
Coaching Camps
---
Cycling Tours
---
Facebook
---